Few leaders would dispute the notion that knowing more about your customers is good for business.
Business Intelligence
(BI) has become the standard for helping leadership gain visibility into business operations and make data-driven decisions. This is no less the case within the wine industry, where aggregated consumer data is
popping up in places
we never expected. Yet, while we know that the analysis of data is vital to maintaining a healthy brand, becoming overwhelmed with information overload is an almost inevitable side effect.
So how do you, as a winery owner or tasting room manager, get the most bang from your BI?

Remain Customer-Focused
Always remain focused on the customer when analyzing your data
Over time, the benefits of business growth can be undercut by a loss of connection to customers. As your wine SKUs and channel types diversify, it can be all too easy to lose track of which customers or types of customers have affinity with which products across channels. Companies can learn how to restore that connection through a focus on personalization. Key ingredients of data-driven personalization are:
Customer data management and integration. It's important that your BI not only integrate with a robust CRM system, but that you and your team are making it a priority to capture customer data whenever and wherever possible. In addition to collecting information in the tasting room and at events, using preference-based marketing questions on your website and measuring satisfaction through surveys or other follow-up methods can be a great way to gather data from your users without compromising their comfort.
Analytics that deepen understanding of customer behavior and patterns. Analytics can enable businesses to learn how customers in closely defined segments spend money over time and when in the customer life cycle it is best to communicate particular marketing messages or make certain offers. When you gather insights into the details beyond sales - such as motivations and needs - you can engage with customers more effectively, gain trust, and build loyalty.
Share Data Across Departments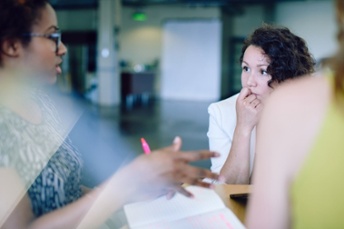 Unposed group of creative business people in an open concept office brainstorming their next project. In most organizations, the heads of marketing, sales, and service usually have only limited views of one or a few sources of data. It seems obvious, but it's worth mentioning that in order for data to have a significant and sustainable impact, all departments should be sharing insights with each other and figuring out different ways to integrate them into their operations. This not only provides a more complete picture of the status quo, but will increase efficiency.
Use It or Lose It
Keeping up with the latest consumer trends, technologies, and shifts in the economy (to say nothing of the
environment
) is enough to make anyone who runs a wine business want to rip out their hair. With so many variables constantly impacting the way business has to be done, decision-makers often need to react rapidly to new information and make decisions quickly. As the old adage goes, the best defense is a strong offense. Make a habit of analyzing your most impactful data regularly, so you're not blindsided by changes or trends that you didn't expect.